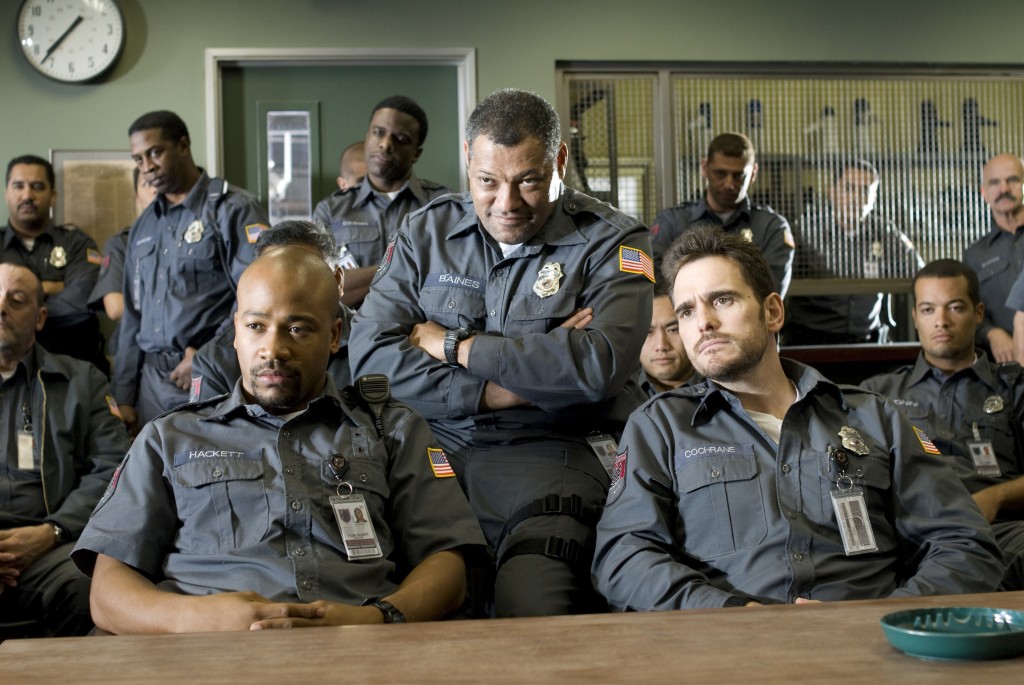 by Allison Horton
In "Armored", actor Columbus Short's first action film ever, he was excited to be able to do all of his own stunts such as running, jumping and crashing armored trucks.
"It was pretty crazy and intense," he said. "It is like a kid being able to play cops and robbers and shooting it up. It was fun."
"Armored," which opens this Friday also stars veteran actors Laurence Fishburne and Matt Dillon. Short plays a young armored truck driver who is coerced by his co-workers to steal $42 million.
"It is very much a moral quandary that these characters find themselves in," he said. "It comes to the point where who is going to take a stand to do what is right."
Short said Fishburne "dropped a lot of jewels and pearls" of wisdom on him about the film industry.
"Laurence has been really pivotal in helping me along the way," he said. "I call him Uncle Fish. I call him in my time of need and he is very much there to help me through."
Short's career has escalated through the years with his first starring role in 2007's "Stomp the Yard" and memorable turns that same year in "This Christmas" and 2008's "Cadillac Records."
Portraying troubled blues artist Little Walter, who suffered from alcoholism, in "Cadillac Records" was challenging and educational, Short said.
"I didn't go through the things that Little Walter went through so I had to dive in and search myself and the character to bring it to life in a real way," he said.
Short said he was inspired to become an actor by watching movie legends Gene Kelly, Humphrey Bogart and Sidney Poitier.
"I had an affinity for old film," he said. "These guys were just movie stars when a movie star was a movie star. These kind of guys made me want to do film and be an actor."
At age seventeen, Short got his start in entertainment by touring the world for two years with the dance troupe, "Stomp," where the dancers created percussion with inanimate objects.
"It prepared me for what I am doing now," he said. "Artistry affects peoples lives and inspires other people that come after you. Like What Michael Jackson has contributed through his music and philanthropy.
"There are things I want to do," Short added. "So hopefully in the next five to ten years I will be a major player in the game and a major voice in the world.
The actor is also a musician and singer that plays the piano, drums and bass. Some of the singers he admires are Sammy Davis, Jr, Miles Davis, and John Coltrane.
"I am a music connoisseur," he said. "The musical genres are widespread that I enjoy. I don't have a specific kind of music. I just want to make good music."
Short counts musical performer Ne-Yo as one of his best friends and remains close with his "This Christmas" co-star Chris Brown.
"Chris Brown is my boy," he said. "I have been in touch with him since the incident [with ex-girlfriend singer Rihanna]. You just love your friend for who they are and where they are. You just be there and be a friend."
What's next for the actor, dancer and musician? Short will star along Chris Rock, Martin Lawrence, and "This Christmas" co-star Loretta Devine in the comedy film, "Death at a Funeral," which is due out April 2010.
"It was zany set and crazy with a lot of laughter," he said. "Working with Loretta again is like working with family. It is about a family whose uncle and father died and they come together to attend the funeral."